We're Broadcast Audio Fanatics. Are you?
The Telos Alliance (www.TelosAlliance.com) is one of the most highly-regarded technology companies in America, with a dynamic, international presence in the broadcast sector. And we're seeking passionate, talented, creative, and brilliant professionals to join our team.
Do you have a passion for broadcasting? So do we. As a matter of fact, over 40% of our staff has roots in the broadcasting industry. This may be part of the reason The Telos Alliance is one of the most innovative, successful broadcast equipment companies in the industry. Want to join us?
Right now, we're seeking an IT Administrator to work out of our world headquarters in downtown Cleveland, Ohio.

Requirements:
Bachelor's degree in Computer Science, Information Technology, Computer Engineering, or Informational Systems Management or equivalent
5 - 10 years of experience
Excellent organizational skills
Excellent IT analytical and problem solving skills with a good head for business
Ability to investigate, diagnose and correct all IT related issues
Understand complex information and requirements
Knowledge in Windows, VMWare, MS Dynamics, Symantec AV and Backup Exec, Microsoft Office, Google Apps for Work, and mobile devices
Knowledge in network security, QoS, MPLS, and VLANs
Good written and verbal communication skills
Ability to work to tight deadlines and within constraints
Good prioritization skills and be flexible to adapt plans
Flexible to work the occasional night +/or weekend to accomplish projects during "downtime"
Ability to travel (<10%) to tradeshows +/or other facilities as needed
Knowledge in Linux and Cisco OS (switch configuration)
Familiarity with office telephony systems (PBX, VoIP)
Job Responsibilities:
Assist employees with daily computer/IT related needs
Manage servers, data backup, security and passwords
Make recommendations for improving the company's IT systems
Provide input to the yearly budget cycle including managing the RFQ and bid process for service and products
Carry out routine configuration and installation of IT solutions
Maintain database of company web domain information and DNS records as needed
Ability to work to tight deadlines and within constraints
Pluses:
Knowledge in SQL server databases
Ability to maintain license servers and associated licenses to allow multiple locations and employees access
Knowledge in TDM/VoIP in a mixed O/S environment
NSCE and CCNA certified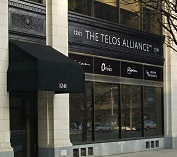 These are exciting times at the Telos Alliance. We've been awarded a "Top 100 Workplace in Northeast Ohio" by the Cleveland Plain Dealer for two consecutive years (2013 & 2014). With hundreds of dealers worldwide, and a huge domestic and international client base, we need to increase our resources, pure and simple.
Address your resume, along with a few words about why your philosophy fits with ours to human.resources@telosalliance.com.