AoIP: Key to Improved Workflow and Lower Operating Costs
Why broadcasters need to re-think that traditional audio-for-television model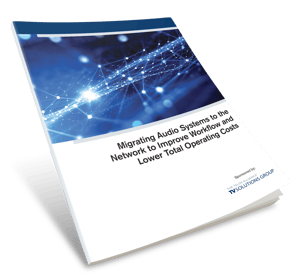 Television audio and pro audio technology have come a long way since the days of mono sound and editing magnetic tape with razorblades. Today, audio emission using AoIP (Audio over Internet Protocol) is the next step forward, revolutionizing audio workflows and providing a range of important benefits. In this whitepaper, you'll learn about:
The latest trends in audio technology
Understanding different AoIP protocols
A look at the AES67 interoperability standard
The unique advantage of AoIP in TV applications
Radio station engineers already recognize the potential of AoIP and have been experiencing the many benefits of this new technology for over a decade.
It's time for TV engineers to upgrade from the old audio-for-television model and take advantage of AoIP. Our whitepaper details how to improve workflow efficiency while lowering operating costs – a powerful combination that will be embraced by management, engineers, and operating staff alike.
Download your free whitepaper today!
Receive your FREE Whitepaper