It also features auto-assigned, auto-generated mix-minus on each channel, easy individual or group talkback for remote talent cueing, one-button off-air phone record mode, and up to 99 show profiles to set, save, and recall console layouts for specific shows or individual operators.
Axia Fusion IP consoles are installed in two state-of-the- art control rooms in the Martin Media Center as well as in the two original control rooms. In addition to the Axia Fusion IP audio consoles, the system employs Telos Alliance xNode media interfaces that made setting up the AoIP network fast and simple. The xNodes are largely self-configuring, so setup involves simply plugging them into the network, assigning an ID, and connecting audio sources.
The rich feature set of the Axia Fusion IP audio console is advantageous not only to the professionals working in these state-of-the-art control rooms but to students as well. Rinehart notes that although the console is designed for professional use, it includes intuitive features and enough safeguards to support learning and use by students, and the system will prevent accidental errors such as changing an audio source during live broadcasts.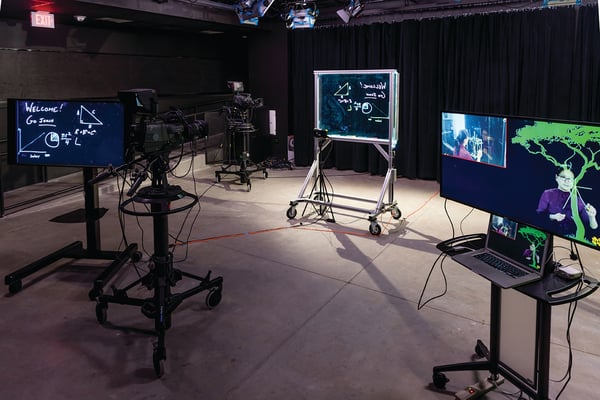 Additionally, Axia xSelectors are employed in multiple positions throughout the facility for confidence monitoring, while the Axia RAQ rackmount console is used as the master loudspeaker source selector in the Production Control Rooms.
"This is really a cutting-edge facility and we're still learning how to completely capitalize on its full capabilities," said Rinehart. "IP requires a totally different way of thinking compared to a conventional HD or SDI environment, and we've had to unlearn many old ways of doing things. The Axia Fusion IP audio console and the Telos Alliance xNode interfaces are helping facilitate that process."
Moving forward, Rinehart says the capabilities of the IP infrastructure will allow them to fully utilize the multi-dimensional Martin Media Center to support athletics, faith, media relations, academics, distance learning, team building, training, HR, and more. And, as it evolves, the Telos Alliance and Axia AoIP solutions will be further leveraged to bring new venues on board.
"The IP infrastructure over fiber and the AoIP solutions have expanded our capabilities," he adds. "The router now has about 45 fiber cables coming out of it compared to the over 4,000 cables that our HD/SDI setup would have required."
Rinehart concluded by saying that many factors came together for the successful implementation, "The Axia AoIP solution was an important part of reaching our goal of implementing an integrated IP audio/video system."
You may also be interested in: