Visit us in Hall 8, Stand #A44
#Broadcastwithoutlimits Telos Alliance, the global leader in broadcast audio for more than three decades, will exhibit at IBC 2022 with a focus on solutions and direct, consultative engagements with customers. IBC 2022 provides the ideal forum for Telos Alliance to connect face-to-face and engage in meaningful conversations with customers about their new projects and discuss solutions.

The Telos Alliance exhibit will feature a team of audio and broadcast experts ready to actively collaborate with visitors on projects and concepts along with providing unique insights on how hardware, software, or a hybrid combination allows them to enhance capabilities or solve problems in their facilities.

"As we continue to provide more solutions to the industry, IBC 2022 is the perfect event at which to showcase our continued work across a wide range of file-based and real-time media workflows, including virtualization to empower our customers to broadcast without limits," states Marty Sacks, EVP of Sales, Marketing and Strategy at Telos Alliance.
IABM In Conversation with Telos Alliance
In this IABM TV interview, our Co-CEO Scott Stiefel discusses Telos Alliance's plans to re-emerge onto the global conference and exhibition landscape by participating in-person with a meeting booth at IBC 2022. It's all about reconnecting with customers and engaging in meaningful conversations about solving audio and broadcasting challenges face-to-face.
Book an appointment to meet with one of our audio experts at our booth today!
Meet the Telos Alliance Audio Experts at our Booth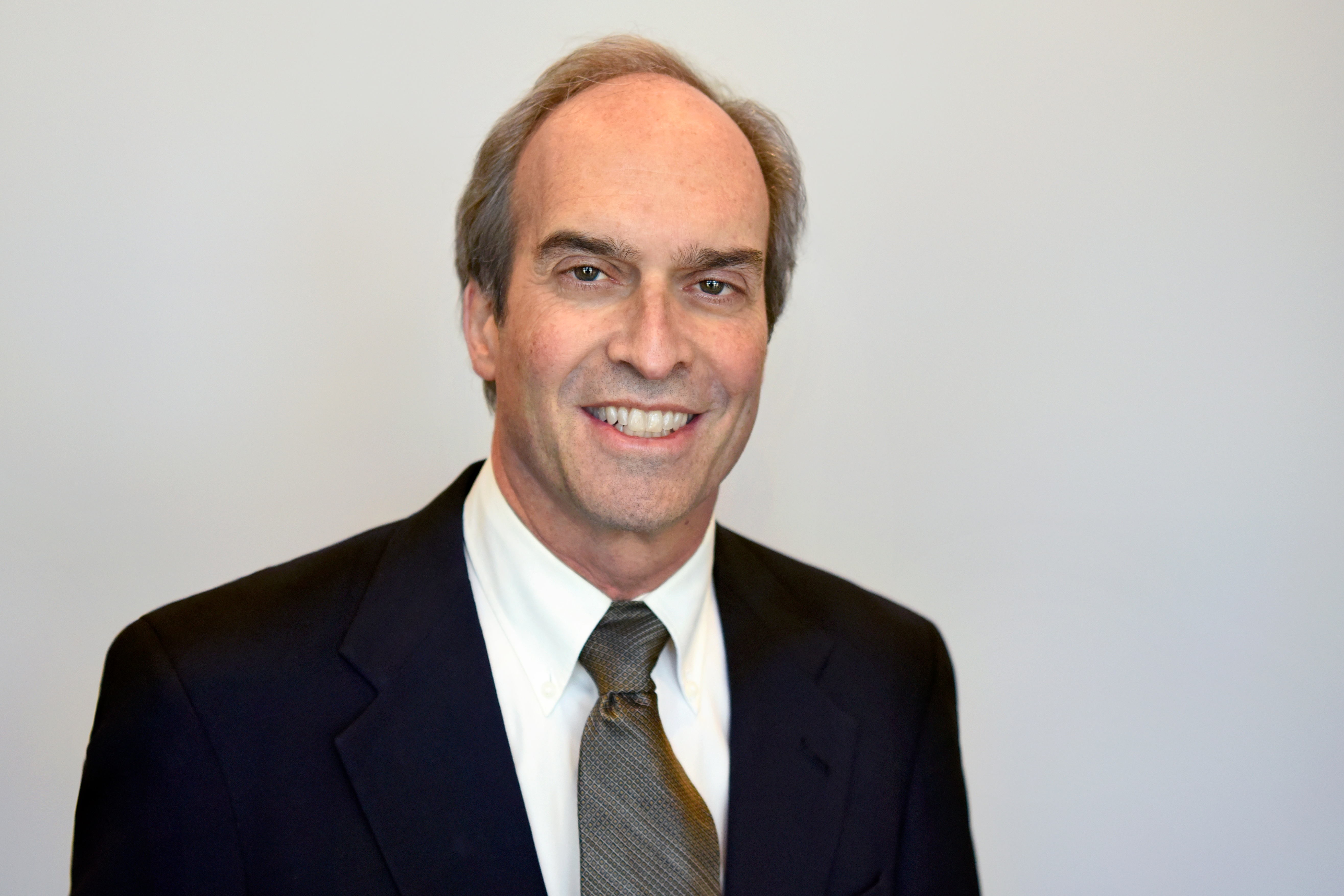 John Schur, President of TV Solutions
John founded Minnetonka Software in 1986, which provided general purpose software development primarily for the medical community. In 1998, he formed Minnetonka Audio Software (MASI) to focus on audio software products and services for the professional broadcast and media industries. John has led MASI to create many award-winning, industry-leading products as well as numerous software development projects for leading industry participants. With a strong background in engineering, John has taken an active role in software architecture and design within MASI. In 2016, John became the president of Telos Alliance's Solutions Group. He has a long-time interest in music, performance, and audio recording. He holds a B.S. in Electrical Engineering from the University of Illinois and a Masters in Computer Engineering from Stanford.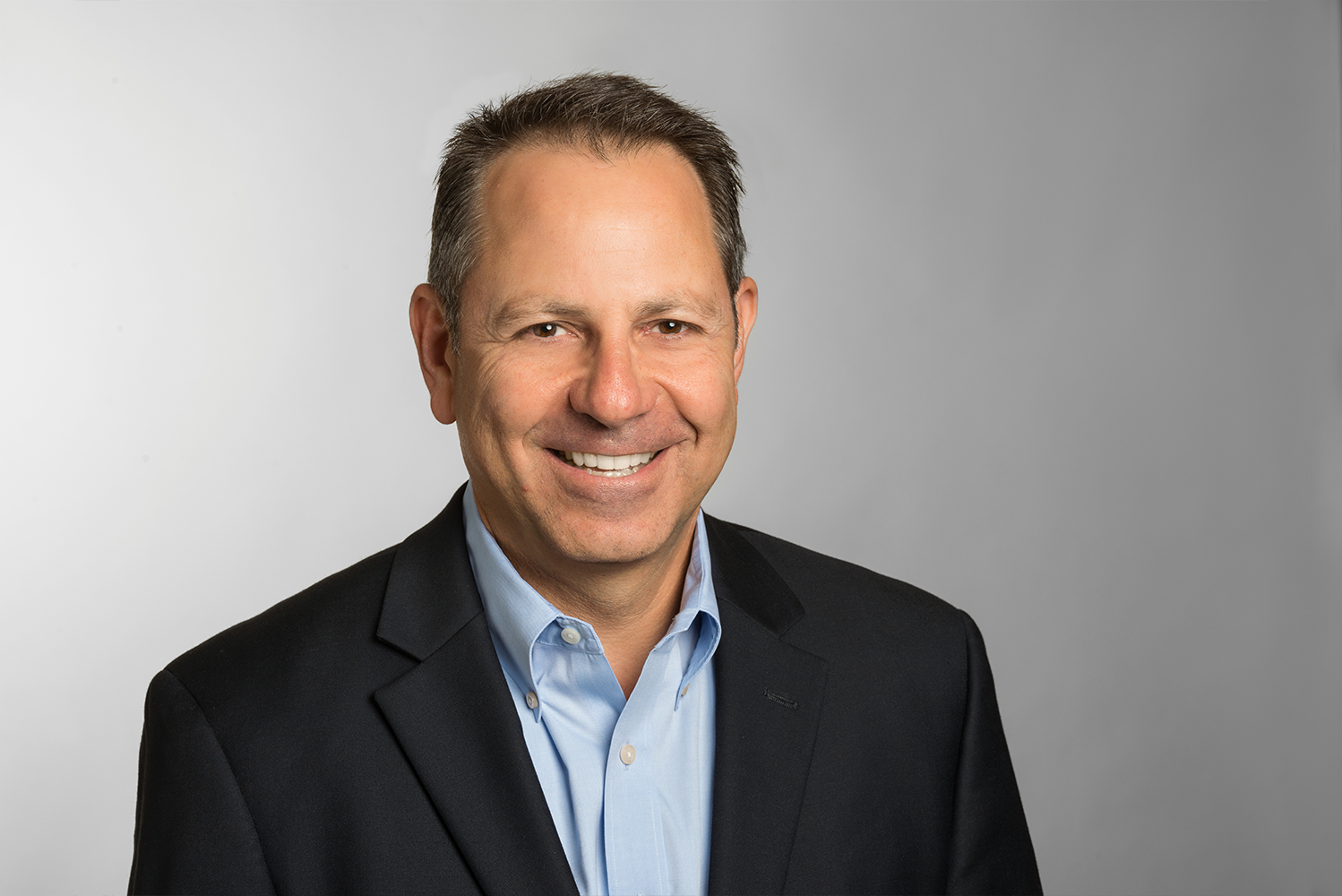 Marty Sacks, Executive VP of Sales, Marketing, and Strategy
During more than a decade with the company, Marty Sacks has held a variety of roles in management and sales as well as business and product development. Marty has also had sales roles with some of broadcasting's most storied brands including console manufacturer Pacific Research and Engineering (PR&E) and Electronics Research, Inc. (ERI), world-class supplier of tower and antenna systems. Prior to his roles with broadcast equipment suppliers, Marty enjoyed a career as a technologist for some of radio's best-known stations, including highly respected NPR affiliate WAMU and the US's first successful FM CHR station, WPGC, both located in Washington, DC. Marty also had project and technology consulting roles with group owners First Media and Greater Media for several years. In his spare time, he teaches people to fly airplanes and is a search and rescue pilot with the Maryland Wing of Civil Air Patrol.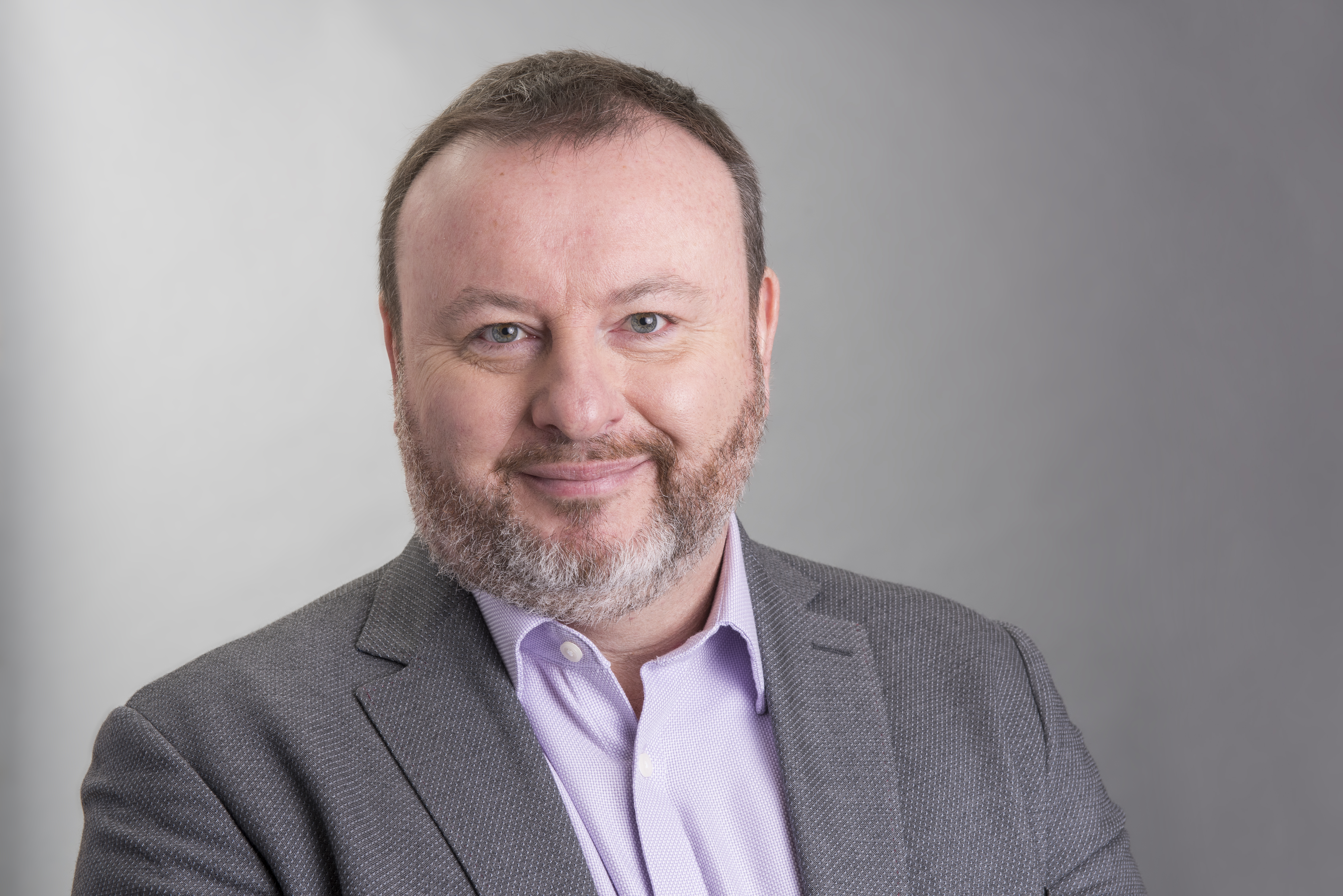 Martin Dyster, VP of Business Development
Martin has worked in the TV Broadcast and Professional Audio Industry for almost 30 years since joining Broadcast Intercom pioneers Philip Drake Electronics as a test engineer in 1987. He has spent most of his career in Broadcasting Systems Integration, heading up the audio and communications design team at TSL Systems and working on some of the world's highest profile TV broadcast infrastructure projects. Martin spent several years leading the TSL Products audio business during a period of sustained growth. Martin's role as VP of Business Development is to help establish the wider credentials of Telos Alliance within Television Broadcast conversations.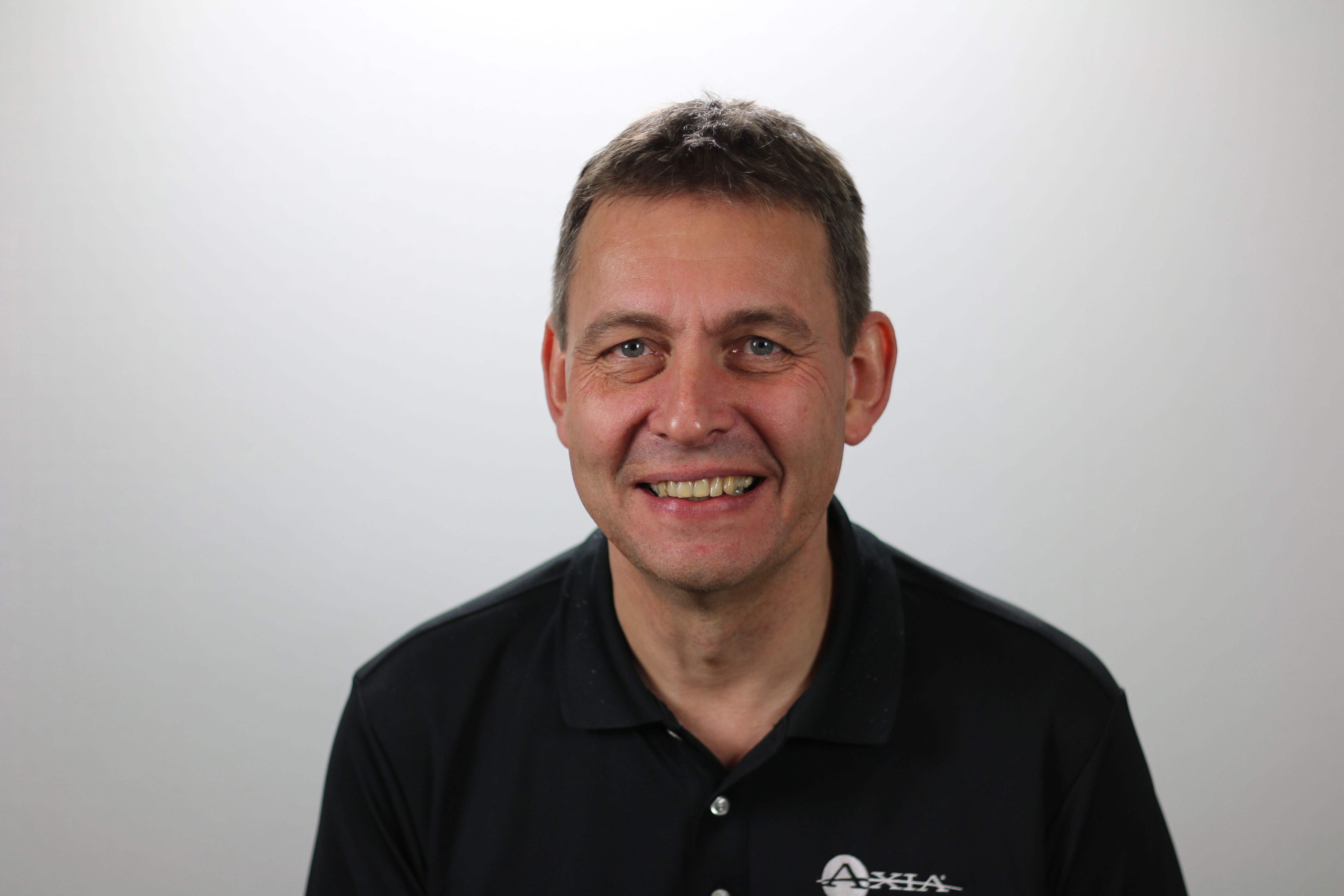 Peter Passian, Sr. Director of Sales, Eastern Hemisphere
Peter started his career in broadcast as a part-time Chief Engineer at a small private radio station in Germany. After completing his studies, he ran his own broadcasting and communications technology company which built and serviced numerous radio studios in Germany and Austria and supplied pro audio equipment. In 2010, after 22 years of leading his own company, Peter joined Telos Alliance as Director of Sales, Europe. Peter and his family live in Regensburg, Germany.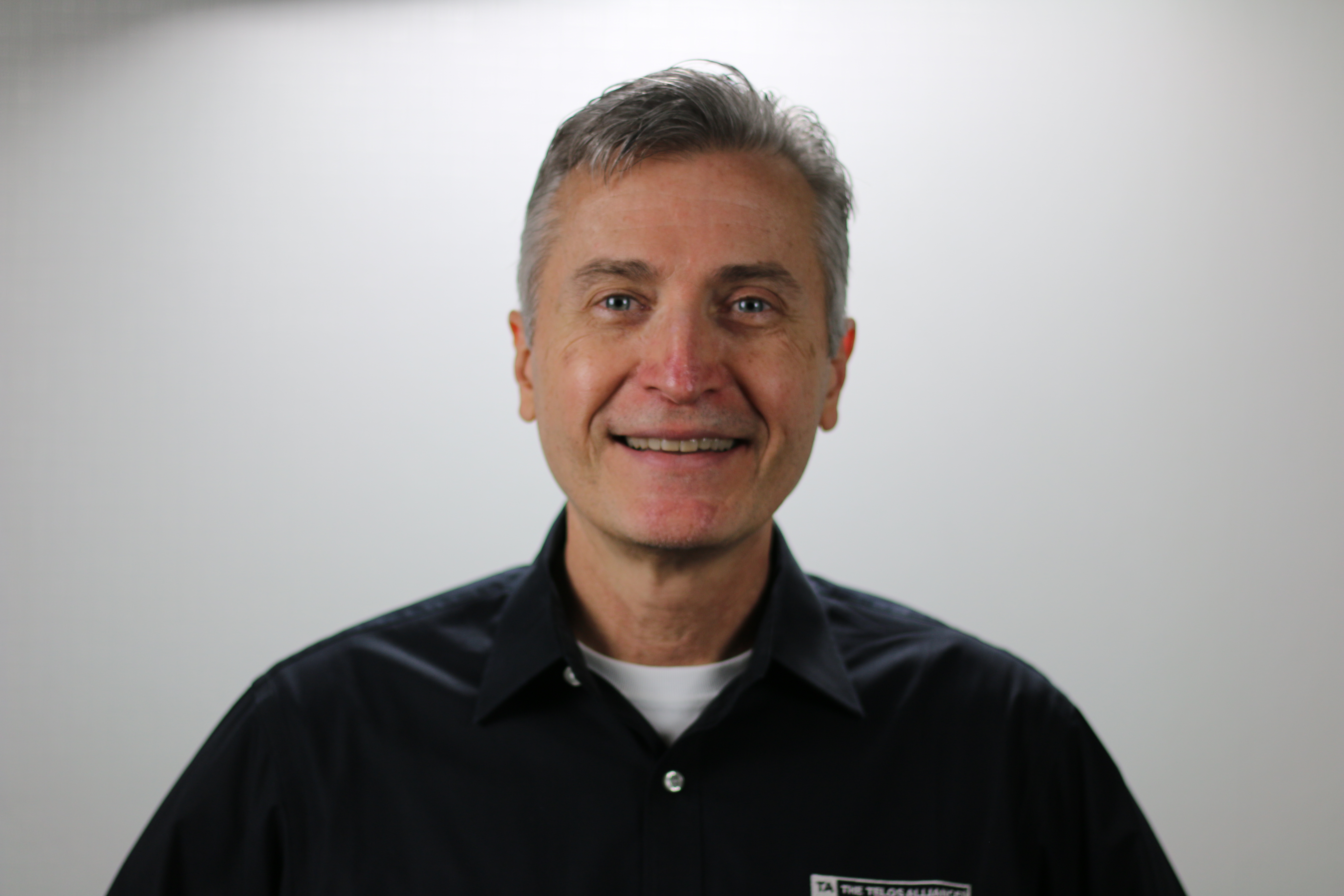 Ken Skok, Director of Sales, Europe
Ken currently serves as the Director of Sales, Europe managing a team of channel partners covering all Telos Alliance product families. Ken attended the University of Florida and obtained a BS in Telecommunications. He started his broadcast career in the late 1980's working as Chief Engineer while at University of Florida. In early 2000's, he served as Director of Operations for CircuitWerkes for a few years. In 2005, he started at Axia Audio which later became part of Telos Alliance. He now serves as Director of Sales, Europe working from our Telos Alliance GmbH office in Viersen, Germany.
Markus Hintz, VP of Business Development
Markus has an extensive background in audio engineering and production, in addition to management experience as the CEO of MediArte GmbH, a distributor and system integrator. At Minnetonka Audio, Markus was responsible for the worldwide launch of the AudioTools product line and the establishment of AudioTools Enterprise as the leading automated platform for file-based audio expertise in enterprise level environments. Markus was formerly a Board Member and Vice President of the German Tonmeister Association (VDT).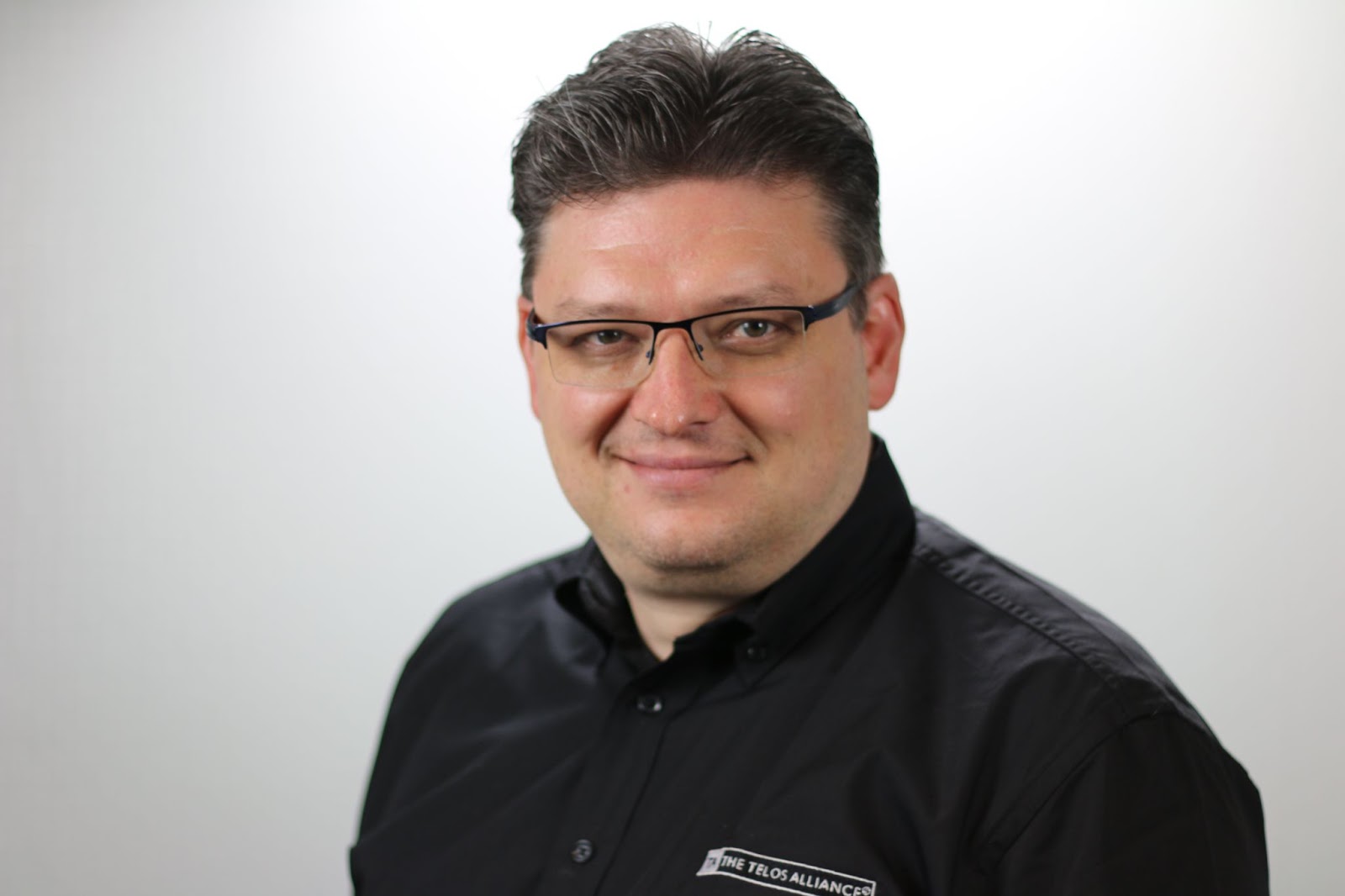 Artur Podzorski - Director of Sales, TV Solutions Group
Artur started his journey with the media business in 2001 as chief engineer at Chimney Pot, a large Polish post production house. In this role, he maintained the reliability of several key systems like a telecine, and compositing systems like Autodesk Inferno, Fire etc. From there, he joined Digital Video Systems, working as sales and service manager for Eastern Europe selling editing systems for digital cinema and high performance storage systems. In 2008, he had a short adventure with DataDirect Networks and in 2010 he worked for Television Systems Limited as Sales Manager covering Eastern and Middle Europe. During his career he has also designed post production facilities, renderfarms, etc. In 2018 he joined Telos Alliance as Director of Sales for Eastern Hemisphere.
CREATING THE MOST EXCITING AND ENGAGING AUDIO EXPERIENCES IMAGINABLE

Telos Infinity VIP
Come experience the world's first fully featured cloud-based intercom platform live and in person at the Grass Valley booth located at 9.A01. Telos Alliance and Grass Valley partnered to deliver Telos Infinity VIP on GV AMPP (Agile Media Processing Platform), a professional intercom solution for cloud-based media production workflows. Learn more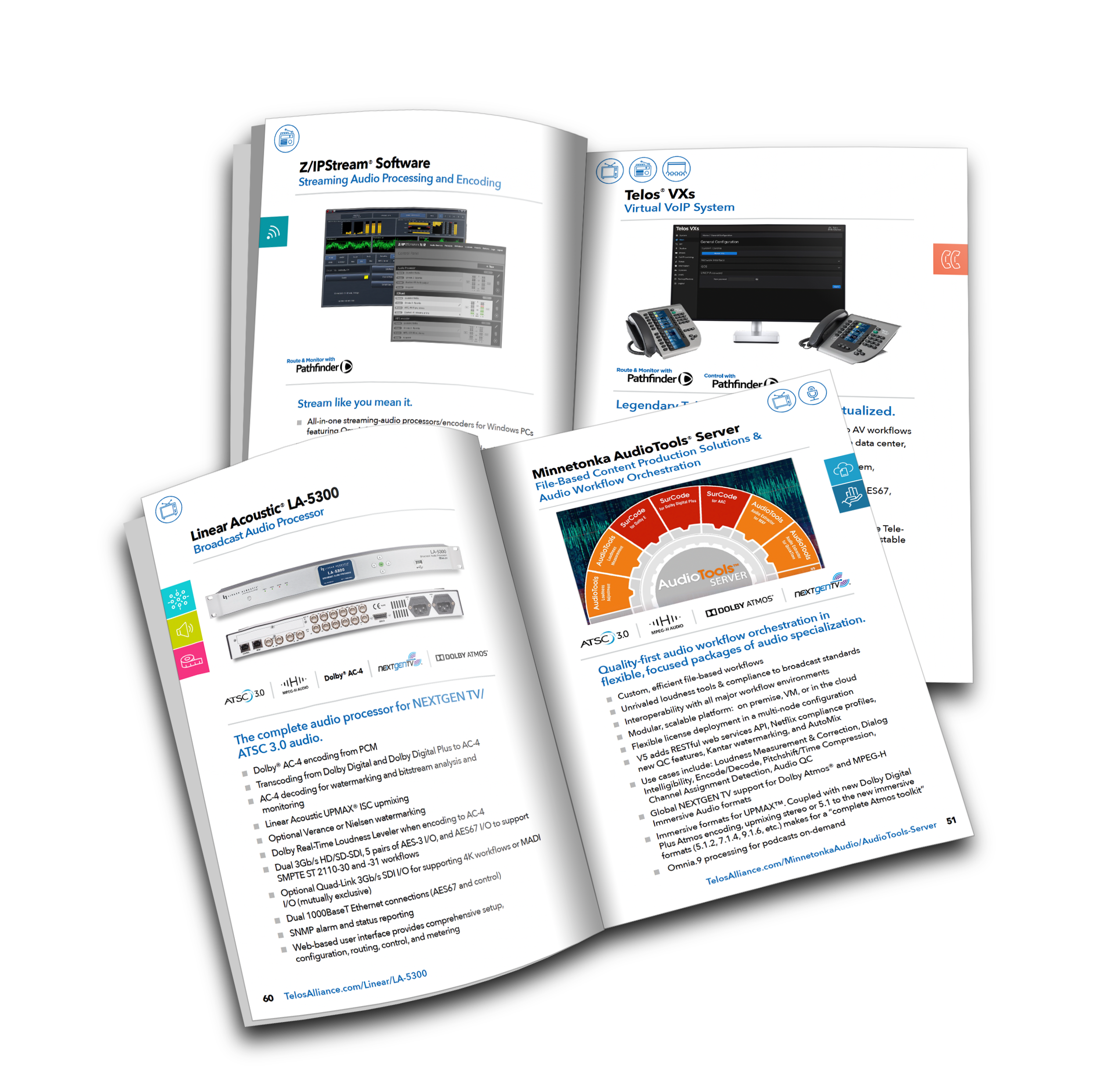 Product Notebook
The abridged version of our complete product catalog put all the highlights right at your fingertips. No matter where you're at on your audio journey, Telos Alliance will be with you every step of the way from analog to digital to AoIP to your entire networked ecosystem. Learn more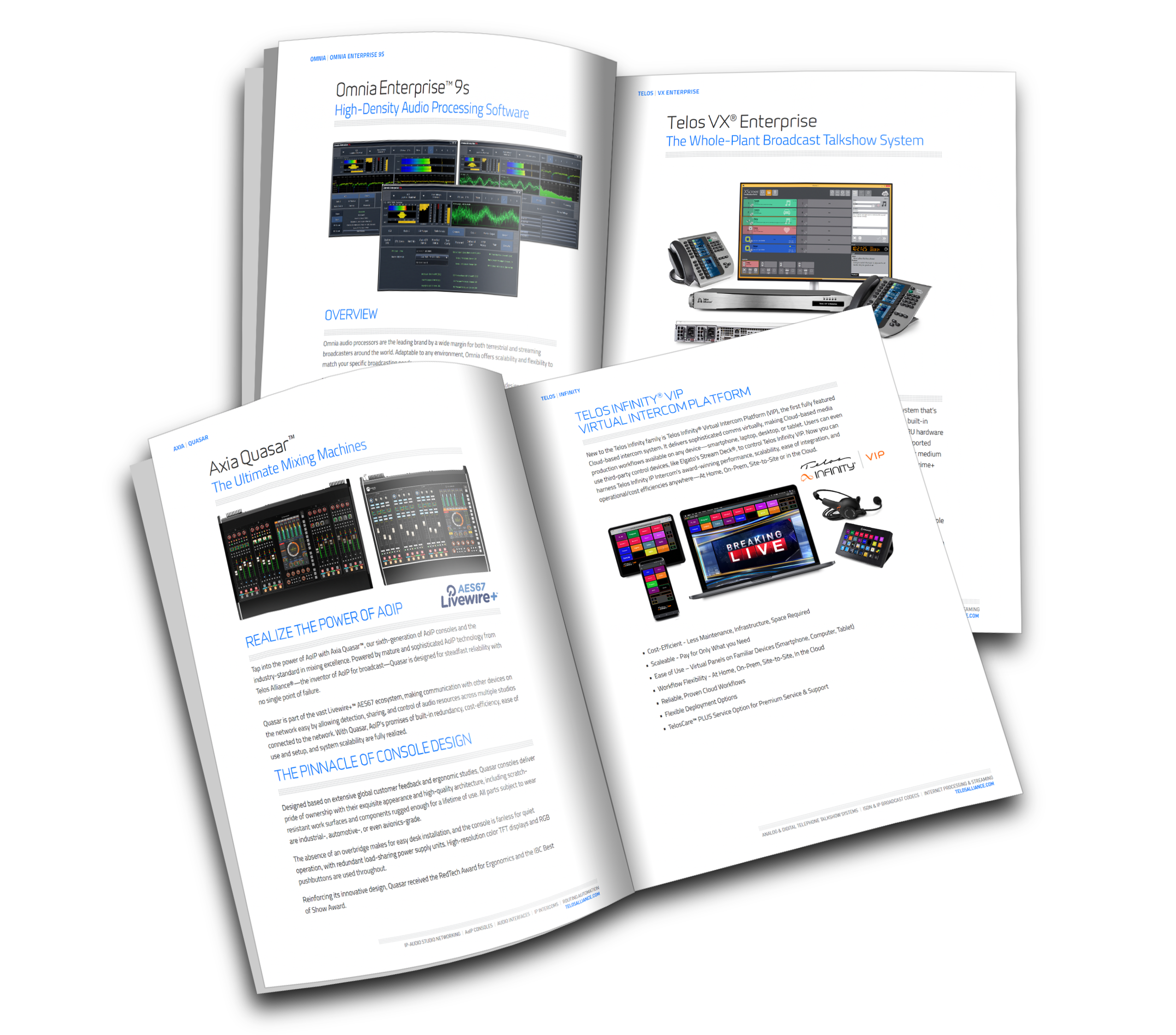 Product Catalog
All the latest, best-in-class audio and broadcasting products and solutions designed to help you meet the challenges you face head-on. Now, you can spend less time solving problems and more time creating the most exciting audio experiences imaginable. That's what broadcasting without limits is all about. Learn more