WGN Radio has been broadcasting for nearly 100 years in Chicago. Owned by Tribune Broadcasting, WGN is a 50 kilowatt FCC Clear Channel AM station on 720 kHz. The WGN format is a full spectrum of news, traffic, weather, talk shows, and sports.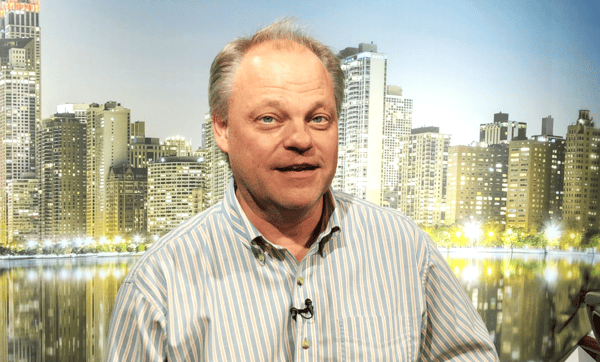 WGN-AM Chief Engineer Bill Murdoch
Producing a news, talk, sports format around the clock requires a lot of coordination, both in planning and in on-air execution. For several decades, WGN Radio had relied on a custom-designed, purpose-built intercom system. It was large, unusual, and no longer supported by the manufacturer. A few short years ago the station switched to a newer intercom system bundled with new audio consoles and audio routing system. However, WGN's unique and demanding communications needs quickly outgrew this bundled intercom. Show producers, technicians, and talent were making mistakes and becoming frustrated with the lack of needed features in their make-do bundled system. Indeed, they longed for the custom functionality of their old intercom, but updated to leverage new Audio over IP (AoIP) technology.
WGN Radio uses a broadcast intercom system much as a 24/7 television news network would. Program-length shows employ show producers to coordinate guests, breaking news, weather, and traffic reports, and arrange for cross-show use of newsmaker audio clips or "actualities". They also set up and coordinate outside broadcasts ("remotes") for long- form sports coverage and breaking news.
Clear, accurate, and instant voice communication is crucial to providing a polished and professional on-air presentation.
"We looked at other systems and some of the other systems had card cages and mainframes, and with those frames it was a lot more difficult to expand."—WGN Chief Engineer, Bill Murdoch
The search for a better intercom solution started when WGN Radio learned it would be moving to a new studio building. The radio studios had been in the iconic Tribune Tower for many decades, so this fresh start in a new building was an opportunity to upgrade the intercom system. Additionally, the studio move would occur over near a month, so accurate and convenient communications between the old and new buildings would be needed.
Chief Engineer, Bill Murdoch, began searching for a new intercom system by looking at traditional television production intercoms. After all, intercoms designed for television broadcast production likely already have the features and quality that WGN was seeking.
WGN's initial list of features and attributes for a new intercom system looked like this: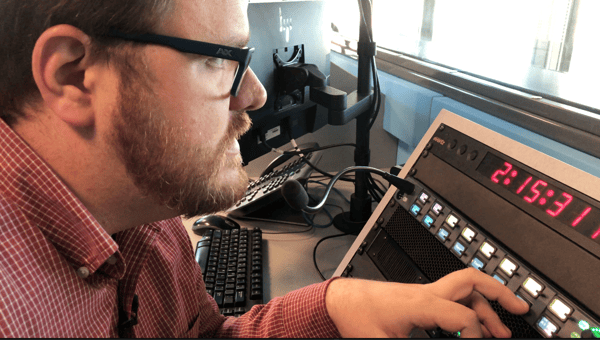 WGN Executive Producer Jeff Carlin talks with a remote studio with the Telos Infinity IP Intercom
Professional, full-featured system as used in television facilities

Front panel mic and speaker

External mic and speaker path

Hands-free talk and listen

One-to-one and group communication

Indication of who called last

Who's calling now indication

Full IFB capabilities for remote and local talent

Cost-effective technology for later expansion

Ease of use for producers & talent

Expandability

Programmability / configuration convenience
During their search, WGN's engineering team considered intercom systems from legacy manufacturers. They also looked at a couple of alternatives, including a new fully IP-based system from the Telos Alliance. Intercom systems from legacy manufacturers certainly met most of the requirements. After all, these legacy systems have for decades fine-tuned their feature sets toward broadcast operations.
Leading the search for the right intercom system Murdoch noted, "We looked at other systems and some of the other systems had card cages and mainframes, and with those frames it was a lot more difficult to expand."
As the search and comparisons progressed, the requirement list expanded as additional capabilities were discovered from one of the candidate intercom systems.
IP network-based audio transport and signaling

Standards-based connectivity
Factoring these attributes eventually led to preference for a single intercom system—the Telos Infinity IP Intercom. Moreover, as this winnowing process was leading to an IP-based topology, two more attributes became apparent that would lead to a firm decision in favor of Telos Infinity—the elimination of a costly central matrix and seamless network integration with their existing Telos VX talkshow system.
Network-based topology – no central matrix

Seamless network integration with their VoIP/SIP Telos VX talkshow system
Murdoch discovered a key benefit to an IP-audio intercom, "It's just a matter of ordering another single rack unit device [an off-the-shelf Ethernet switch] and the Infinity can get bigger as you get bigger."
"It's just a matter of ordering another single rack unit device [an off-the-shelf Ethernet switch] and the Infinity can get bigger as you get bigger."—Murdoch
Indeed, the Telos Infinity—as with other AoIP systems—only requires IP network connections to qualified IP switches. The intercom logic normally provided by a central matrix is afforded by intelligence within each Infinity intercom panel tied to other panels by a modern AoIP network.
WGN decided on using the Telos Infinity IP Intercom.
Workers had to move quickly as station operations began transitioning from the Tribune Tower to 303 Wacker Drive in June 2018. Moving the studios would span about three weeks. Intercom communications among studios would be critical during the move, as would intercom connections with the usual busy schedule of sports broadcasts, outside remote broadcasts, and breaking news. During the studio move a microwave IP-audio link was established between the old and new studio buildings. These links carried Infinity IP Intercom audio between the sites, as well as program audio to and from studios and at each site.
As the new studios were completed, more of the systems, including part of the the Infinity intercom, were shifted to 303 Wacker Drive. Having clear and convenient communications between the two locations proved to be invaluable. WGN produces not only its own on-air shows 24/7, it also produces live play-by-play and other programming for other sports networks. Coordination among studios, talent, and remote sites is critical.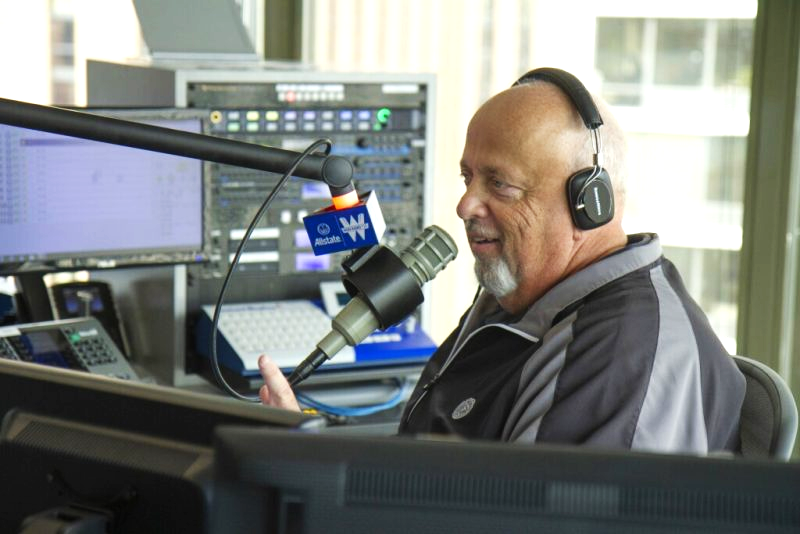 WGN Morning Show Host Steve Cochran on the air
On June 19, 2018, the final studio and reporting desks had been moved out of the Tribune Tower. WGN Radio commenced full-time broadcasting from their new studios.
While the Telos VX VoIP talkshow system is used for on-air callers, it's also used for remote reporters and sports producers to conveniently connect to the Infinity IP Intercom at the studio. The seamless integration between Telos VX and Telos Infinity—both communicating by AoIP— increases the utility and value of both systems.
"It's very easy for people out in the field to be able to call into the intercom system," Murdoch explains. "All they need to do is take their regular phone and dial it up. It connects and you can talk right from the Telos Infinity right to their phone."
Producers and talent at each end can choose to talk with each other hands-free, or using push-to-talk to keep chatter down when it's not needed. Both local and remote personnel can be grouped in the Infinity IP Intercom so everyone can stay on the same page and get simultaneous cues when needed.
Jeff Carlin is an Executive Producer at WGN Radio. He's particularly enthused about the flexibility afforded by this intercom. "The Telos Infinity system in great for us because I can talk to pretty much anybody in our team who was not necessarily based in the studio. We've got traffic reporters in [one] booth, I've got a sports anchor in another booth, a news anchor in another place, I've got an imaging guy who's in another spot, I've got a video guy in another spot, and so I can pinpoint and pick each one of them and say, 'Hey, listen. I need to get this or hey I just heard something great on the air—something you can use.' For us that versatility is really key."
"The Telos Infinity system in great for us because I can talk to pretty much anybody in our team who was not necessarily based in the studio." —Jeff Carlin, Executive Producer WGN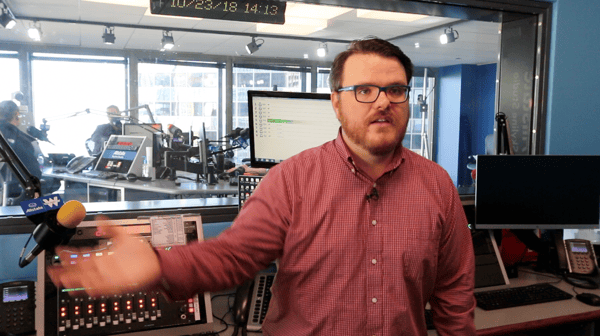 Jeff Carlin says Infinity has made communicating with remote sites and reporters so much easier.
The Telos Infinity IP Intercom exhibits another advantage over some other systems; the intercom audio is full broadcast quality. This means that a reporter in the newsroom, an assignment desk, or even in an office can use the Infinity IP Intercom as their audio channel for on-air broadcasts. This can eliminate extra wiring—and extra mics and headphones—in areas where a simple setup is appropriate. No more duplication of broadcast infrastructure when the Telos Infinity provides full-spectrum linear audio across the facility.
Part of the seamless integration of Telos Infinity and Telos VX includes using the same AoIP network for both systems. WGN has been using a Telos VX system since 2011. Adding the Telos Infinity panels to that network proved to be straightforward and convenient. Each intercom panel has two RJ-45 network connections. One of these makes a home run to a qualified Ethernet switch. The other RJ-45 network jack may be used to daisy-chain to an expansion Infinity panel, reducing the home run wiring if that's desired or needed.
Further bolstering the advantage of an IP-audio-based intercom is the flexibility offered by features and functionality not associated with traditional systems. For example, a unique feature of Telos Infinity panels is the presence of 'Hot Mic', auxiliary I/O and even comms speaker audio as separate AES67 streams on the network. The latter feature is used by WGN to 'split' incoming communication to the Producer panel headset and third-party guest presenter box simultaneously. This affords easy integration of Infinity IP Intercom with third-party audio consoles and routing systems.
Most other broadcast intercom systems use a central matrix and essentially require another layer of wiring from each panel or other endpoint back to that rack-mount matrix card cage. A networked system is different—and simpler—according to Murdoch.
"One of the other big advantages is the Audio over IP and how it works together. We're able to use the same switches that our VX system is on and it's only one rack unit. So, in the rack room—in master control—it's just one rack unit. You plug it in, it goes. It's not a whole rack-full of stuff."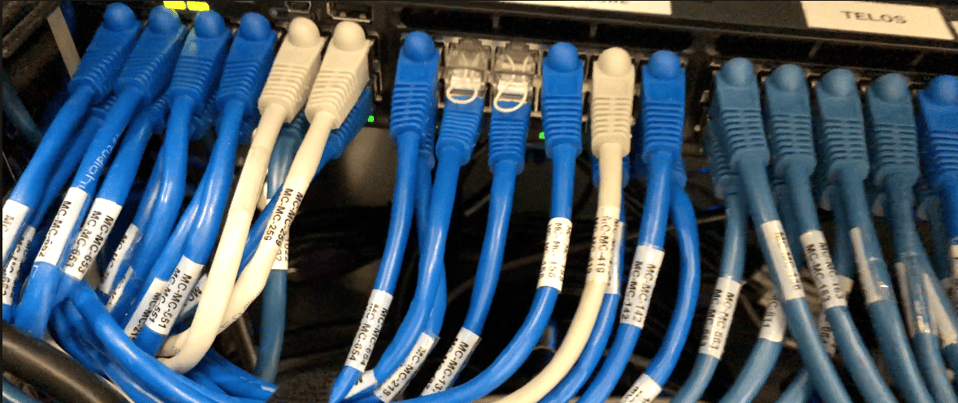 At WGN Radio all the Infinity panels were simply wired to the same Cisco Ethernet switch that already served the Telos VX talkshow system. And while each Infinity panel was wired in a "home run" fashion, broadcasters may also use "edge" switches as well as the "core" Ethernet switch, further simplifying their AoIP wiring.
Murdoch wanted to interface the Telos Infinity IP Intercom with the station's existing audio consoles and user panels. Those items use a different signaling standard so GPIO commands were easily programmed into the Infinity intercom. Now the intercom system works with audio routing functions on WGN's audio consoles, providing more convenience for producers and on-air talent.
The real test of any technical system comes from experience in day-to-day use. Does it work as expected? Does it fulfill the functions and roles needed? Is it beneficial in everyday use? Are there failures, lockups, or other shortcomings that reduce its utility?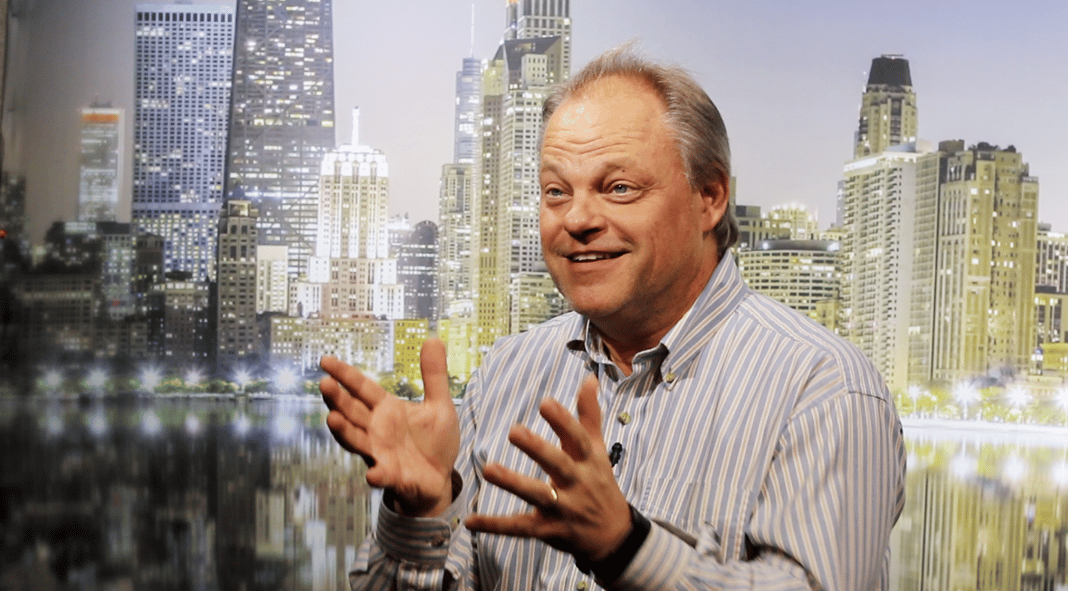 WGN Chief Engineer Bill Murdoch shows his excitement over Infinity
After four months of continuous use and experience, Murdoch describes WGN's assessment, "It's good to have! We're really happy with the Telos Infinity intercom. It's worked very well for us. We like the expandability of it. We like how it [works] together—it's an IP-based system which makes everything run better. And the integration with the VX phone system is great."
It's worked very well for us. We like the expandability of it. We like how it [works] together—it's an IP-based system which makes everything run better. And the integration with the VX phone system is great."—Murdoch
Thanks to both a full intercom feature set and the considerable benefits of using IP-audio networking, WGN Radio is enjoying the convenience and utility of their Telos Infinity IP Intercom system. It works with their existing AoIP-networked Telos VX talkshow system. The station benefits from switching to VoIP/SIP phone service rather than using POTS lines. The Infinity provides crystal-clear intercom audio that's so good it's also perfect for on-air contribution audio. And, the Infinity system is easily expandable in any increment as the station's needs expand.
And one more thing: The Telos Infinity IP Intercom is AES67-compliant. This compliance assures network-level integration with other AES67-compliant audio and multimedia systems.
Contact Sales to get your

radio facility up and running with IP Intercom quickly and easily.
---
ABOUT THE AUTHOR
Kirk A. Harnack is a 40 year veteran of radio and audio engineering practice. His contract engineering business and part-ownership in over 20 radio stations beginning in 1993 have led and informed his journey toward his current position at the Telos Alliance. Kirk regularly facilitates large broadcast projects by connecting equipment capabilities, innovative implementations, and broadcasters' operational requirements.