Telos Infinity IP Intercom Brochure
An introduction to the revolutionary broadcast intercom system from the company that invented AoIP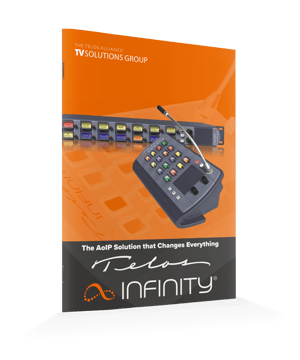 Telos Infinity is a new AoIP solution that delivers a quantum leap in scalability, ease of integration, efficiency and total cost of ownership. First in the new series of Telos Infinity solutions is the revolutionary Telos Infinity IP Intercom - a comprehensive next generation communications solution featuring:
Seamless interoperability through standards-based Livewire+ AES67

Infinite scalability for all internal and external communications

Plug-and-play dvice integration

Intuitive UI for simplified operation

Matrix-Free distributed network architecture

Lower TCO than traditional intercom systems

Optimization for broadcast communications
Ready to check out the brochure? Just fill out the form to download!