Easily Add Audio Devices to Your Studio Network
Telos Alliance xNodes and AoIP nodes are self-configuring, fully AES67-compliant AoIP Interfaces, allowing you to easily add non-networked audio devices to your studio network. They pack a lot of I/O into a very small space, and are available in Analog, AES/EBU, Microphone-level, Mixed-Signal, and GPIO versions to handle virtually any signal encountered in today's broadcast studio. We also offer an SDI node for TV broadcast applications.
Cost-Efficient
Space-efficient and versatile, xNodes let you mix-and-match I/O as needed, without paying for ports you won't use.
Feature-Rich
Loaded with features to ensure the uptime of your network.
Standards-Based
Seamless interoperability through Livewire+™ AES67.
Simple Setup
xNodes practically configure themselves, and you can set them up remotely via web browser.
Best Audio Quality
xNodes produce a "sweeter," more natural audio quality with noticeable sonic improvements after installation.

Tons of I/O
xNodes pack a lot of I/O in a very small space to handle any signal on your network.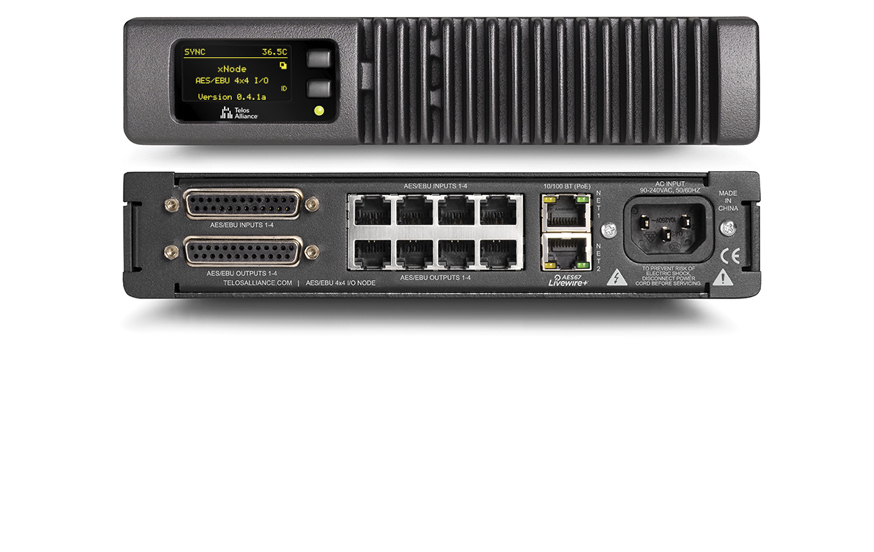 Telos Alliance AES/EBU xNode
Our AES/EBU xNode has 4 AES/EBU inputs and 4 AES/EBU outputs. Left and right input signals may be split and routed independently as mono signals. Stunning performance specs include 48 kHz sampling rate, 126dB of dynamic range, and <0.0003% THD. Sample rate conversion is available on all inputs; the unit can also be synchronized to a house clock to provide sync to your entire Livewire network.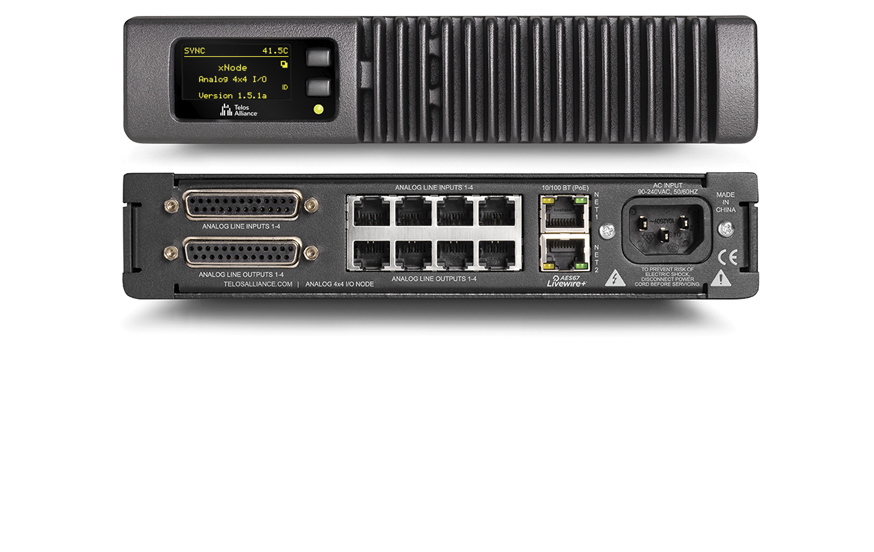 Telos Alliance Analog xNode
The Analog xNode has 8 mono or 4 stereo balanced line-level inputs and 8 mono or 4 stereo balanced line-level outputs, on RJ-45 and DB-25 connectors. It can also accommodate 5.1 surround inputs and outputs, each with an associated discrete Stereo mix. Each input is switchable to accommodate either consumer-level -10dBv or professional level +4dBu sources. The short-circuit protected outputs can deliver up to +24dBu before clipping.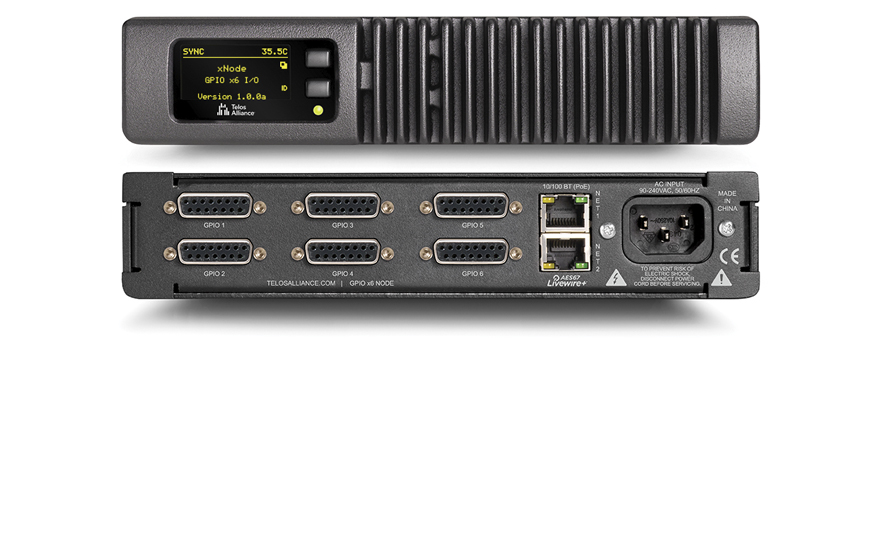 Telos Alliance GPIO xNode
GPIO xNode provides 6 general-purpose logic ports for machine control of studio peripherals – audio devices, loudspeaker muting relays, signal lamps, etc. – each with 5 opto-isolated inputs and 5 outputs. A logic port can be associated with any audio input or output and routes control data transparently along with the audio.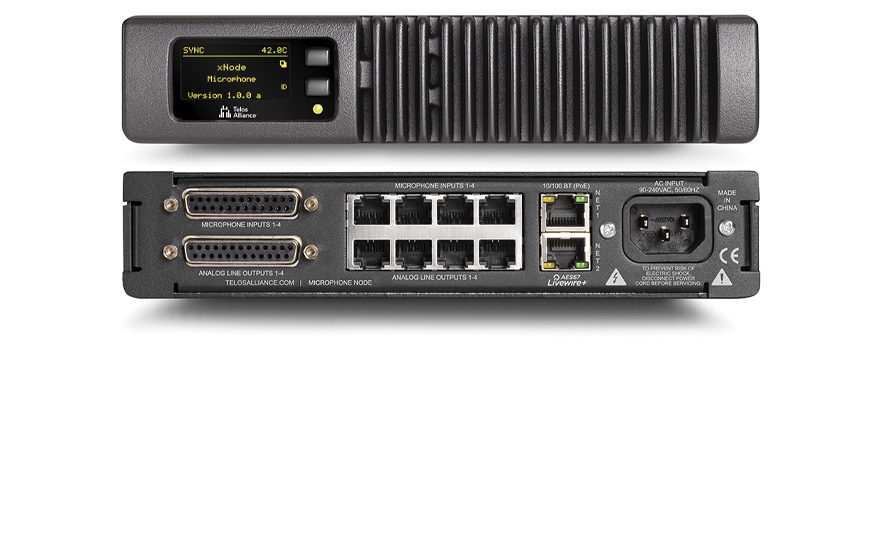 Telos Alliance Microphone xNode
The Microphone xNode has four professional-grade microphone preamps with selectable Phantom power and software-adjustable gain. There are also four balanced analog line outputs to conveniently deliver headphone and studio monitor feeds back to your talent.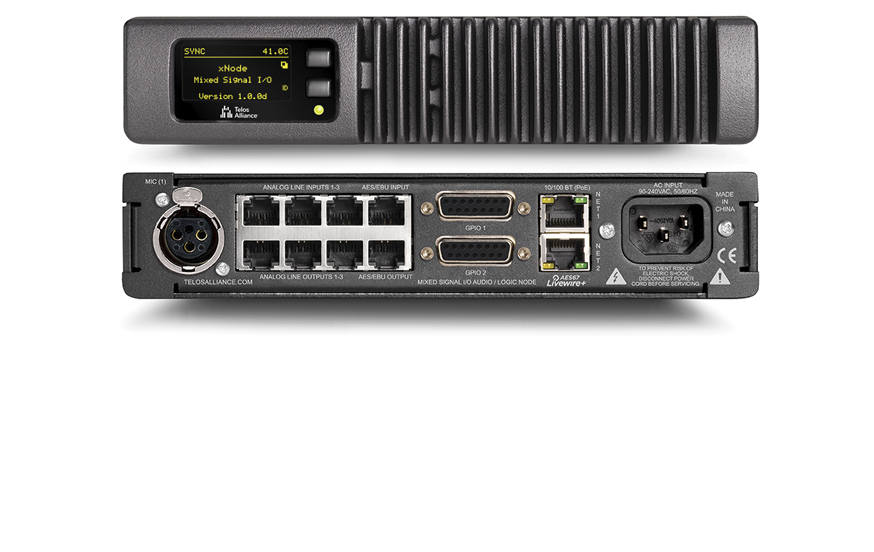 Telos Alliance Mixed Signal xNode
The Mixed-Signal xNode is your utility player; perfect for places that require a mix of different audio I/O types. It provides 1 selectable Mic/Line analog input, 2 dedicated analog line inputs, 3 analog line outputs, 1 digital AES3 input and 1 AES3 output, and 2 GPIO ports – truly a "jack of all trades."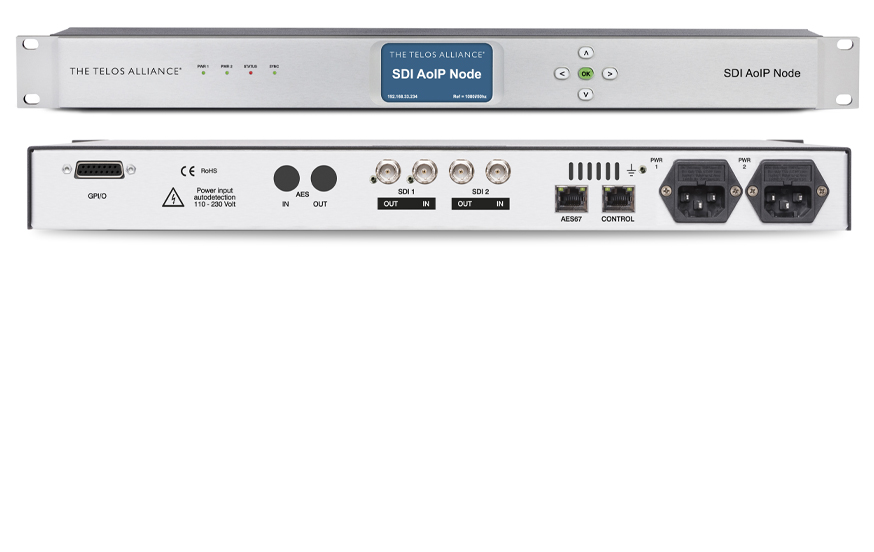 Telos Alliance SDI Audio Interface
As the successor to the SDI xNode, the Telos Alliance SDI AoIP Node continues our commitment to bring the power and flexibility of Audio over IP to broadcast television by de-embedding and converting up to 8 pairs of audio from two SDI inputs to AES67. Audio can then be shared on the network, processed for loudness compliance, and ultimately re-embedded into two SDI output streams.

Preferred Service & Support
Our TelosCare PLUS Customer Care program gives you the one-stop service and support you need long after the sale, going far beyond basic support and troubleshooting.