Telos Infinity IP Intercom Systems
Break the Matrix with Telos Infinity IP Intercom
Telos Infinity® IP Intercom is the revolutionary next-gen communication solution that eliminates traditional intercom's antiquated matrix, delivering a quantum leap in scalability, ease of integration, and efficiency, while reducing total cost of ownership.
More than just a talkback system, Telos Infinity IP Intercom converges voice communication and contribution audio on a single IT backbone employing standards-based VoIP and AoIP transport to provide dedicated features and functionality without compromise.
Because it is matrix-free, you can add plug-and-play networked hardware and software devices to the system as part of a planned or ad-hoc change, without ever worrying that you might exceed the number of available ports on a matrix.
In addition to the hardware-based Infinity IP Intercom System, you can now harness Infinity anywhere—At Home, On-Premises, Site-to-Site, or in the Cloud—thanks to Telos Infinity VIP Virtual Intercom Platform.

Infinite Scalability
Infinite scalability with plug-and-play device integration.
Distributed DSP Architecture
Provides superior functionality in a simplified, more elegant form.
No Matrix
Infinity breaks the matrix with an all-IP backbone for dramatic efficiencies.
Easy to Use
Intuitive UI for simple operation.
Cost-Efficient
Lower TCO than traditional intercom systems.
Standards-Based
Seamless interoperability through standards-based Livewire+™ AES67.
Telos Infinity Applications
Security
Military/Government
House of Worship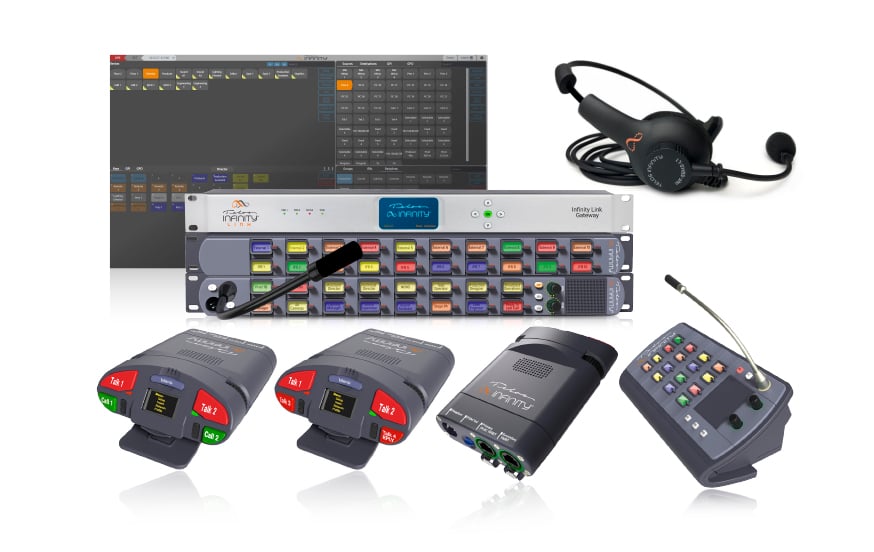 As Part of an Integrated System…
Telos Infinity IP Intercom unleashes the full potential of a distributed IP audio infrastructure, allowing access to any networked audio endpoint through the intuitive Telos Infinity Dashboard application. Mix-minuses, program busses, mixer auxes, monitor feeds, remote contribution audio, and presenter mics are all available anywhere you need them—for communication or on-air use.
When combined with an Infinity system, Axia Quasar AoIP Mixing Console and Axia Pathfinder Core PRO users benefit from integrated remote control of their virtual or hardware intercom panels. Telos Infinity IP Intercom natively supports Livewire+ AES67, allowing for easy interoperability with other Telos Alliance AoIP products or those from other manufacturers that support AES67 or SMPTE ST 2110-30.
…Or as Part of a Legacy Installation
Seamlessly integrates into analog, AES, SDI, and MADI systems using Telos Alliance xNode baseband-to-IP interfaces and other AES67 partner devices.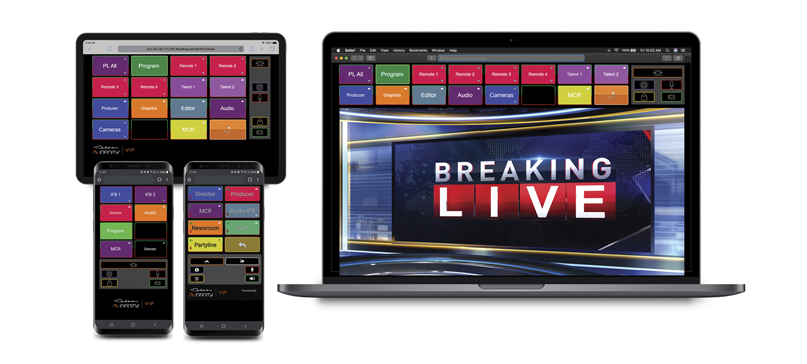 Telos Infinity VIP Virtual Intercom Platform
First, we broke the matrix, now we're putting Intercom in the Cloud with Infinity VIP, the first fully-featured Cloud-based intercom system. It delivers sophisticated comms virtually, making Cloud-based media production workflows available on any modern device, whether it be a smartphone, laptop, desktop, or tablet, through an HTML5 browser or our Android and iOS App.

Telos Infinity IP Intercom System Components
Below you'll find system components for Telos Infinity IP Intercom systems. Contact a Telos Alliance specialist to help build your system today.

Preferred Service & Support
Our TelosCare PLUS Customer Care program gives you the one-stop service and support you need long after the sale, going far beyond basic support and troubleshooting.