High-Performance VoIP, Virtually. Good Call.
Scalable
Pay for Only What you Need and Adjust Your System Over Time As Needs Change
Cost-Efficient
Less Maintenance, Infrastructure, Space Required
Easy to Use
Access Telos VXs on Familiar Devices (Smartphone, Computer, etc)
Flexibility
Deploy VXs on Servers in a Rack Room, Shared Servers in Centralized Data Center, or as Cloud Instances
Reliable
Proven Virtual Workflows Give You Peace of Mind
TelosCare PLUS
Available with Premium Service & Support Customer Care Program
Telos VXs for Radio Applications
Telos Alliance introduced broadcasters to the benefits of VoIP a decade ago with VX, the world's first VoIP talkshow system, in a hardware appliance.
Now, Telos VXs is here to help broadcasters reap the benefits of true virtualization as they adapt to changing broadcast workflows and operations, all while making it easier for teams to produce great-sounding and compelling content. Learn more about VXs for Radio.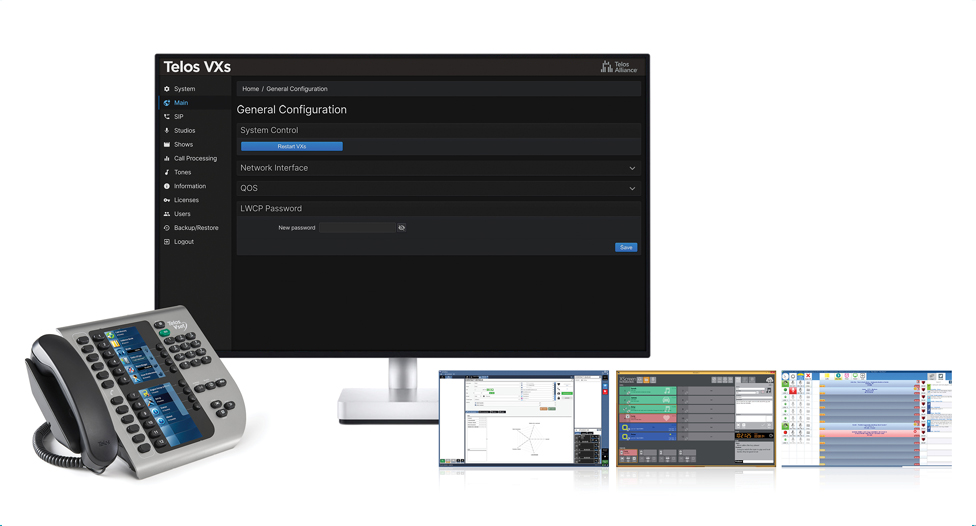 Telos VXs for TV Applications
When it first appeared, Telos VX replaced racks of phone couplers, contribution hybrids, and engineering coordination lines with a single hardware VoIP Engine.
Every call gets fifth-generation audio processing, packed full of technology engineered to extract the cleanest, clearest caller audio from any phone line—even noisy cellular calls.
VXs includes Smart AGC coupled with Telos' three-band adaptive Digital Dynamic EQ, a three-band adaptive spectral processor, noise gating, and Acoustic Echo Cancellation.
HD voice calls benefit from VX's native support of the G.722 codec, instantly improving caller speech quality.
Standards-based for easy connectivity, including AES67 and SMPTE 2110-30 compatibility.
When combined with Axia Pathfinder Core PRO Broadcast Controller, broadcasters can create touchscreen-friendly custom HTML-5 panels to monitor and control every aspect of the VX system from any web browser.